In MIUI 9 security was improved and you cannot unlock locked device easily. But there is a method to bypass FRP Unlock in MIUI 9, reach a home screen and access system settings in order to unlock device on next steps. Using this method you will be able to bypass Google account FRP lock and prepare device for MI Account Unlock. This is so called "Talkback Method".
Bypass FRP Lock on MIUI9
Switch on your Xiaomi Device
Connect Wi-Fi
Go back to very first "Miui 9 Screen"
Long tap for 20-25 sec on Xiaomi Screen with two fingers until you see "Talkback Tutorial" screen popup
Draw "L" on "Talkback Tutorial" screen or swipe down to right to bring "Global Context MENU"
Now Double tap on "Talkback Settings"
Now you can disable "Talkback Feature" by pressing both (Volume UP + Down) keys together, keep pressing both keys for a few seconds until you see "Talkback disabled".
Go to  Help & Feedback > Get Started With Voice Access
Tap on "Youtube Video Play icon"
After that, tap on "Clock icon", after that you will be redirected to the Youtube website
You will see "Search Bar" on top of your browser screen.
Download APEX Launcher
Type in search bar "Bypass FRP lock itgala.xyz"
From the relevant results choose the corresponding entry: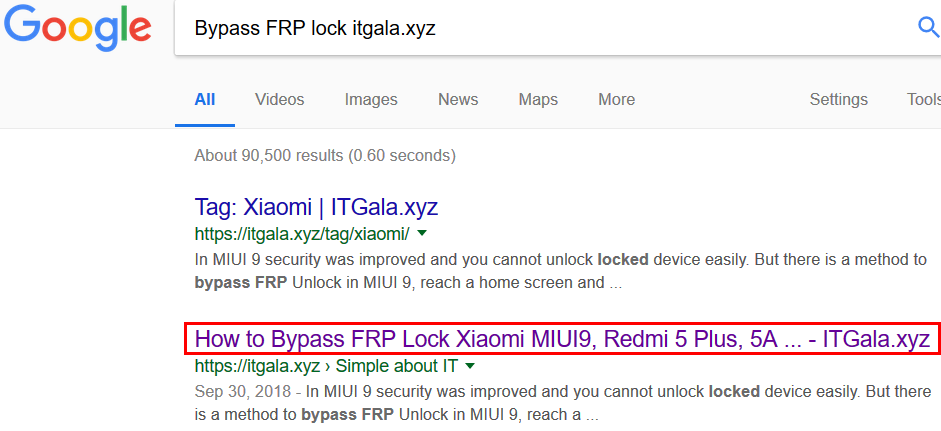 Once downloading finish, you will get a popup in the bottom of screen
Tap on "OPEN" from that popup to install Apex Launcher
Now you will have another popup regarding "Installation Block", tap on "Settings" from the popup window
Enable "Unknown Sources" from there
Go back to "Download Page", and download again "Apex Launcher 3.3.3", once downloading finish, you will get again popup bottom of your screen, simply tap on "OPEN" to install app
Now tap on "Install", after that tap on "OPEN" to launch Apex Launcher
Congrats, you have accessed to your Xiaomi Miui9 home screen, but still you need to Bypass FRP Lock Xiaomi MIUI9
Enable Developer Mode in MIUI9
Go to  Settings > About Phone
From there, tap 7 times quickly on "MIUI 9" until you see "You are now a developer"
Go back to "Settings", after that tap on "Additional Settings"
Tap on "Developer Options"
Tap on "OEM Unlock", and then you will get popup up, just tap on "ENABLE" to enable OEM Unlock
Go back to "Settings", and then again go to "Developer Options" to make sure that, "OEM UNLOCK" has successfully been enabled
Restart Xiaomi Miui9 device by pressing "Power Key"
Now you can easily "SKIP" the screen of "Google Verification"
Complete initial setup, and after that you can add new gmail account to your Xiaomi device to Bypass FRP Lock Xiaomi MIUI9
Want me to do this for you? Drop me a line: itgalaxyzzz {at} gmail [point] com